Creating a variety of products with advanced technologies

In the history of YABUTA, we have studied filtration technology in the many fields and fostered possibilities of filtration systems.
In the beginning, filtration of Japanese Sake mash was worked by man power and all our approaches were the first trials in this field.
Now those approaches rooted as our basic technologies of developing new systems. Based on those various technical know-hows, we developed original products such as sterilizer system, vacuum distilling system, saccharifying system, solid cultivation system and waste water treatment plant, so on.
Recently we also provide new systems which make high efficient production possible in the field of fine-chemical, electronics and other industrials.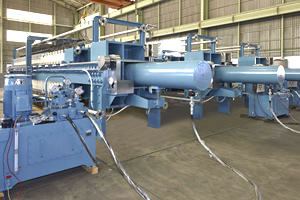 Yabuta Filter Press is a horizontal style equipped compressed air system originally developed by YABUTA. This system consists of a superior dehydrating function and simple mechanism.
4,000 and more systems have been well received in various field.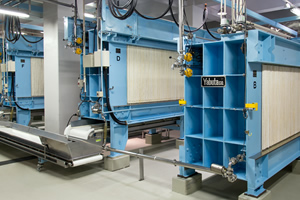 Yabuta Sake Automatic Filter Press not only makes filtration process shorten from over 48 hours of former vertical press to 24 hours, but also highly contributes quality improvement of Sake and labor reduce include Sake cake treatment.