Yabuta Sake Automatic Filter Press

Yabuta Sake Automatic Filter Press not only makes filtration process shorten from over 48 hours of former vertical press to 24 hours, but also highly contributes quality improvement of Sake and labor reduce include Sake cake treatment.
Special Features
The long lasting filter plate and diaphragm are capable for use over a prolonged duration of time.
Standard Model Specifications
Polished Rice
(kg)
Model
Filtration Area
(m²)
Filtration Capacity
(m³)
Length
(mm)
Width
(mm)
Height
(mm)
Weigh
(kg)
Electric Power
(kw)
750
100/40
96.32
0.832
4800
1220
2740
5340
5.2-5.9
1000
100/50
120.40
1.040
4800
1220
2740
5640
5.2-5.9
1500
130/70
168.56
1.456
5500
1220
2740
6380
5.2-5.9
2000
130/100
240.80
2.080
5500
1220
2740
7280
5.2-5.9
2200
150/110
264.88
2.288
6000
1220
2740
7680
5.2-5.9
2500
150/130
313.04
2.704
6000
1220
2740
8280
5.2-5.9
3000
170/150
361.20
3.120
6500
1220
2740
8980
5.2-5.9
4000
200/200
481.60
4.160
7300
1220
2740
9680
5.2-5.9
5000
250/250
602.00
5.200
8650
1240
2820
11740
5.2-5.9
Type B (new model) PP plate1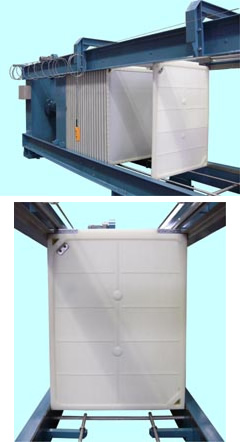 In addition to the Stainless steel and Aluminium plate, Type B (new model) PP plate is now available for Yabuta Sake Automatic Filter Press.
Special Features

PP plate is fit for Type B (new model) Yabuta Sake Automatic Filter Press.
The plate is ultra light because the material is PP (Poly Propylene).
It is good in chemical-resisting and characteristics.
Plate size is 1,022mm X 1,357mm.Thickness is 29mm for Filter Plate and 34mm for Squeezing Plate.
PP plate is also fit for an existing Yabuta Sake Automatic Filter Press.
| Aluminium plate | → | PP plate |
| --- | --- | --- |
| 250 chambers | → | 200 chambers |
| 220 chambers | → | 176 chambers |
| 200 chambers | → | 160 chambers |
| 170 chambers | → | 136 chambers |
| 150 chambers | → | 120 chambers |
| 100 chambers | → | 80 chambers |
Yabuta Automatic Filter Cloths Washing System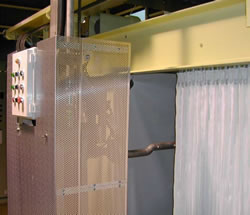 A frequent and precise filter cloth washing is required for many kinds of production.
The filter cloth washing is very important for the sanitary control of the filter press especially in resting period. The automatic filter cloths washing system allows to remove the dregs of previous products from the filter cloth and to prevent the shift of the smell to the current product.
Special features

Filter cloths are washed by more than 3 Mpa high pressure water from the right angled direction.
The appropriate washing number of times for the condition of filter cloths can be selected.
The amount of use of water during plate shifting is saved by circulating.
Warmed water instead is available.
A required installation area is small.
Yabuta Automatic Filter Cake Scraping System
This system adopts two types of filters which have different cake discharging performance.
By this way of operation, Sake cake sticks only squeezing plate and is removed by scrapers.
Special features

The cake scraping function is precise and reliable.
Fully automatic filter cake scraping.
Depending upon the filter cake conditions, scraping speed can be adjusted.
The simple structure is ideal for easy maintenance.
The area sensor is extremely safe for the operator.
Plenty of other safety features are also included.
The touch panel type control panel is easy to operate.
Human interface is extremely friendly.
Standard Model Specifications
| | |
| --- | --- |
| Scraping Ability | 70min/cycle (200 chamber type) |
| Electric Power | 200V. 4Kw |
| Air Pressure | 0.5~0.9MPa Dry Air |
| Dimensions | Width 2700mm Length 1200mm Height 750mm (above the press) |
| Weight | 1.5 metric tons |
Yabuta Filter Cake Hopper Scale / Metal fragment detector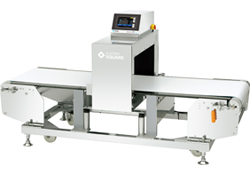 The Hopper Scale simplify the Sake cake process such as breaking, weighing, and packaging.
Additionally by using the metal detector together, products can be prevented from mixing the foreign objects.
Special features

The Hopper Scale speedily automates the manufacturing process of breaking automatically weighing, and packaging the filter cake.
Until now the filter cake was weighed manually. Yabuta Filter Cake Hopper Scale allows for the speedy and precise manufacturing process of weighing and packing the cake.
As the results, the reduction of the manufacturing cost and improvement of the efficiency can be allowed.
The metal fragment detector allows for the safety enhancement by the function of detection a metal in the filter cake packed.
MHW-20 MODEL SPECIFICATIONS
Model
MHW-20 Type
Packing Weight
5kg – 30kg
Hopper Capacity
60 liters
Processing Time
approx. 20 sec
Electric Power
AC 220 V
Air Pressure
0.5 MPa
Motor
0.75 kw with 1/15 gear head
Included Parts
1 Air Cylinder 50φx70L
2 Air Cylinder 30φx20L
1 Foot Switch
1 Non-Arcing Switch
DMS93-600 MODEL SPECIFICATIONS
Model
DMS93-600Type
Detection Type
Iron & Non-Iron common use
Detection Width
600mm
Detection Height
TBD (Maximum 350mm)
Detection Sensitivity
TBD (Fe, SUS)
Belt Speed
TBD (10 - 30m/min)
Alarm
Lamp, Buzzer, and Belt Stop
Electric Power
AC 100V, 200V, 50Hz, 60Hz
Electric Power in Overseas
AC 220V, 380V, 50Hz
Options

A metal fragment can be detected in various application.
With 5 phase channels.
Each channel is adjustable with 10 steps sensitivity.
Remote Controlled Operation (Wired).
Yabuta White Clean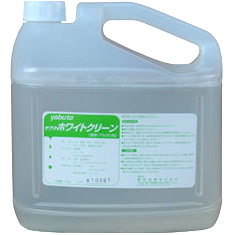 Yabuta White Clean is Liquid Washing Agent contains Silicate and Surface Active Agent.
With warm water solving, Yabuta White Clean acts high decomposition performance to protein pollutions.
Applications

Filter cloths, Sake filter bag washing.
Cloths for Koji production cleaning.
Tanks, Hoses, Heat exchanger pipe, Stainless pipe.

Properties

Appearances : Transparent liquid.
pH: 11.0~12.0 (0.5%) alkalinity.

Main ingredient

Silicate.
Higher alcoholic ionic surface active agent.
Chelating agent.
Special features

Yabuta White Clean is Liquid Washing Agent acts excellent performances to fats and protein pollutions by synergy of Silicate and Surface Active Agent.
Yabuta White Clean acts higher washing effects with less damage to the cloths.
Yabuta White Clean does not deteriorate tank materials.
Yabuta White Clean remain almost no bubble and easy to rinse.